The following are required to port your current fax number to mFax:
A filled out and signed Letter of Authorization (LOA). Click HERE for more information on how to fill out an LOA and to obtain the LOA form.
A recent copy (no more than 30 calendar days old) of a bill from your current provider showing the fax number(s) you wish to port
In lieu of a bill, an even better solution is if you can provide a CSR (Customer Service Record) from your current carrier. This is often preferred as the information on a bill does not always match what your carrier has on file. Not having this correct information can cause rejections and delays to the porting process.
The porting process is automated and can be done directly from within the mFax portal.
To access the porting interface from the main view, click on "numbers" on the left side panel and then "porting" below it.
Next, click the button labeled "New Porting Request" (see below)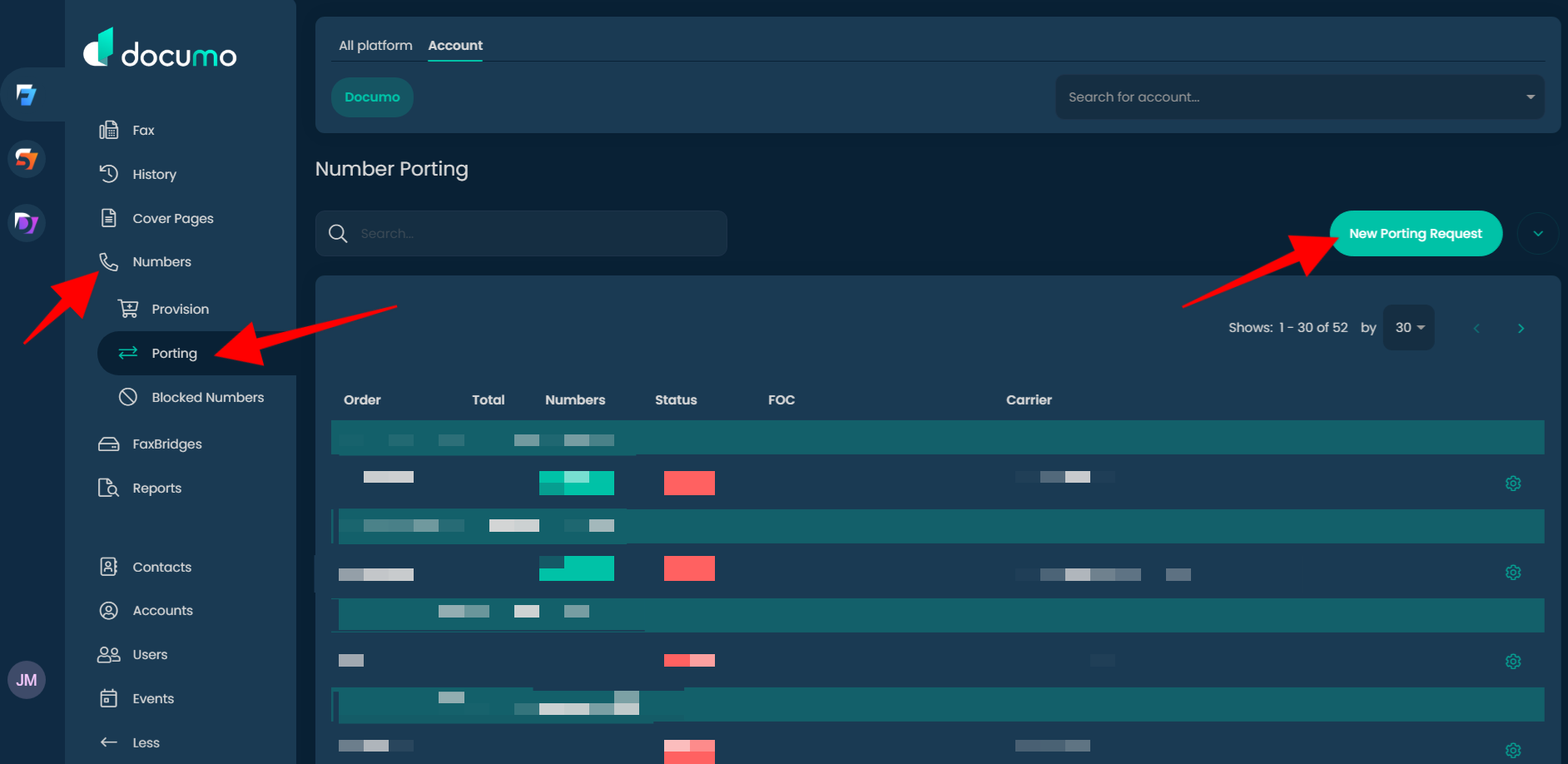 This will launch a modal that will take you through the steps to submit your port. It should look like this:



Please note, a valid Billing Telephone Number (BTN) must be provided when submitting a port request.
Once submitted, your number will show up in your account. It will have a "Port Pending" icon but you will be able to route the number so there will be no downtime when the port completes.
You should receive email notifications as the status of the port is updated and you can always see a real time status in the portal. Simply return to the Numbers screen and click the "Porting" button to view the status grid.
If you have any questions or concerns regarding the porting process please reach out to our team via email at porting@documo.com or via live chat in the app.
Ports can vary in processing time, depending on the carrier you are porting away from. Average time is 7-10 business days. For continuous service on your number, do not cancel service with your provider until the port is complete. This can cause a delay in the process and only active numbers are eligible for porting.
Note: There is a one-time $15 charge per number for porting.